It was another strong week of releases in the comic book world. This week we had so many comics that I couldn't get to all the comics on my pull list. So to make sure we give proper attention to the comics for the week I've put together a few extra reviews. This week both titles are tie-ins to major events. The first is Captain Marvel #42, which is a tie-in to A.X.E.: Judgement Day. Then there is Teenage Mutant Ninja Turtles #133, a tie-in to the TMNT event The Armageddon Game. Let's take a look at how these comic books turned out.
In case you missed reviews for other comic books released this week we also have reviews for Batman vs Robin #2 and Daredevil #4 live on the website.
CAPTAIN MARVEL #42

CREATIVE TEAM
Writer: Kelly Thompson
Artist: Andrea Di Vito
Colorist: Nolan Woodard
REVIEW
Captain Marvel enters A.X.E.: Judgment Day at an awkward time. That is because the majority of tie-ins to A.X.E.: Judgment Day have centered around Progenitor making his judgment on all the Marvel Universe characters. But unlike others, Carol Danvers is coming off a story arc that was based around being placed on the trial of a magic council Carol ultimately proved herself, with the Scarlet Witch's help, that she is an ultimate hero.
Because of that, I'm glad Kelly Thompson found a way to pivot the story to not be centered around Carol Danvers for Captain Marvel #42. Instead, this issue focused on Carol's pet alien cat Chewy. This gave Thompson the opportunity to be more creative with the storytelling of how you tell a story around Progenitor making a judgment of whether a pet is worthy in their eyes. It certainly added to Chewy as a supporting character you want to see Carol simply interacting with more in casual settings.
But what really made Captain Marvel #42 work as well as it did was Andrea Di Vito's artwork. With the lead character not voicing any dialogue, it was even more key to nailing the character presented. That is where Di Vito's artwork stands out as the different ways Chewie express himself from the facial expressions to the use of their powers worked well to keep the story moving forward.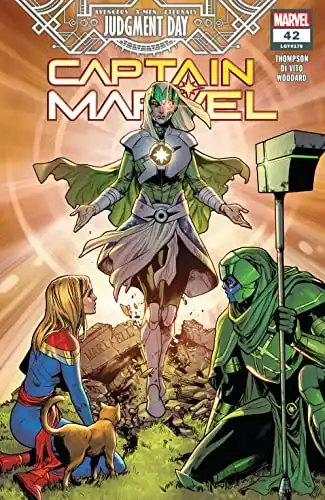 FINAL THOUGHTS
Kelly Thompson and Andrea Di Vito take the concept of A.X.E.: Judgment Day to create a fun story around Chewie, Carol Danvers pet alien cat. Vito's artwork in particular is a standout in making this one of the best tie-in comics to A.X.E.: Judgment Day.
Story Rating: 7 Night Girls out of 10
Art Rating: 8 Night Girls out of 10
Overall Rating: 7.5 Night Girls out of 10
TEENAGE MUTANT NINJA TURTLES #133

CREATIVE TEAM
Story Consultants: Kevin Eastman and Tom Waltz
Writer: Sophie Campbell
Artist: Fero Pe
Colorist: Ronda Pattison
REVIEW
With how game-changing The Armageddon Game has become for IDW's Teenage Mutant Ninja Turtles the main event won't be able to cover everything about the franchise. That is where Sophie Campbell comes in with the main series tie-ins in Teenage Mutant Ninja Turtles. With Teenage Mutant Ninja Turtles #133 we get the calm before the storm from Mutant Town's perspective.
What worked, in particular, was the focus on Donatello, Jenika, and Venus in this issue. By focusing on these three characters and their interactions with different parts of Mutant Town we got a better street-level look at The Armageddon Game's impact. There is a great sense of escalation with how Donatello, Jenika, and Venus each deal with where they are as the event is just beginning. By the end, you feel how bad things are and will continue to get if the Turtles and their allies can't overcome the Rat King.
Fero Pe steps up big with artwork that is consistent with the style this series has had from the beginning. What Pe does best in capturing is the personalities in the designs for Donatello, Jenika, and Venus. The way each one emotes helps the tone of voice that Campbell is capturing in the dialogue. And when things get really bad you see that in how the artwork frames the events at the end of the issue.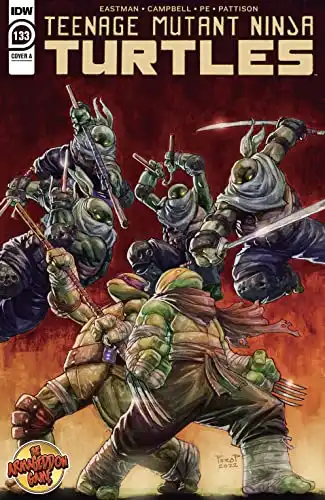 FINAL THOUGHTS
The Armageddon Game is becoming a game-changing event for the franchise and Teenage Mutant Ninja Turtles #133 captures that fact at a street level. By focusing on Donatello, Jenika, and Venus both Sophie Campbell and Fero Pe were able to get across how overwhelming the things the Turtles and their allies are dealing with during The Armageddon Game.
Story Rating: 9 Night Girls out of 10
Art Rating: 7 Night Girls out of 10
Overall Rating: 8 Night Girls out of 10