This was a packed week of comic book releases. I wasn't able to get to all of them as I originally intended but still wanted to make sure to cover two notable releases from my pull list. Those two comics are Immortal X-Men #2 and Thor #25. Immortal X-Men #2 continued the narrative around the current status quo of the Quiet. Thor #25 both continued the Hulk vs Thor: Banner Of War crossover event and celebrated Thor's 60th anniversary. How did these comic books turn out? Let's take a look.
You can also check out our reviews with full spoiler synopsis for Batman/Superman: World's Finest #3, Nightwing #92, and X-Men: Red #2 on the website.
IMMORTAL X-MEN #2
Creative Team
Writer: Kieron Gillen
Artist: Lucas Werneck
Colorist: David Curiel
Review
As with the first issue, Immortal X-Men #2 is at its best when delving into all the questionable decisions that the Quiet Council make for what they decide is the greater good of Krakoa. Specifically, when it comes to dealing with Selene we see that they really are about the politics of their decisions. While this entire part of the story was done to put over why Hope Summers is the newest member of the Quiet Council it's the drama that comes with that decision that is most fascinating. It all speaks to how much the Quiet Council has put on themselves to make such important decisions.
Though given the big reveal in X-Men #11 the previous week the Mister Sinister part of Immortal X-Men #2 stood out the most. Right now Mister Sinister has been elevated to the character we must keep an eye on every move he makes. He no longer can work from the shadows. His hulking up to defeat the monster Selene unleashed further drove home how we can't take our eyes off Mister Sinister right now.
All that said the one part of Immortal X-Men #2 that did not completely work was the connection between Hope Summers and Exodus. The whole Messiah conversation they have felt incredibly forced with the way it was written. Given the narrative built around Hope in this issue, their entire conversation came across as filler rather than meaningful for both characters.
Overall, Immortal X-Men #2 was a solid follow-up to what happened in the first issue. Not everything is perfect here but there is enough done to show why an entire series around the Quiet Council is needed for this phase of the Krakoa Era for the X-Men.
Story Rating: 6 Night Girls out of 10
Art Rating: 7 Night Girls out of 10
Overall Rating: 6.5 Night Girls out of 10
THOR #25
Creative Team
Writer: Donny Cates, Tom DeFalco, Ron Frenz, and Nadia Shammas
Artist: Martin Coccolo, Ron Frenz, and Pete Pancazis
Inker: Brett Breeding
Colorist: Matt Wilson and Simone D'Armini
Review
The main story of Hulk vs Thor: Banner Of War is at its best in Thor #25 when focusing on the main two players of the conflict. Everything with Thor, Hulk, and Bruce Banner worked to progress how the battle between two of Marvel's most powerful characters continued to escalate. How the spirit of Odin factored into how things went with Bruce Banner, in particular, was a welcome surprise. Odin pushed the story forward more than Thor and Hulk themselves. It certainly left us with a lot more questions about where Thor and Hulk will end up when all is said and done.
Adding to the story was the equally unexpected involvement of Iron Man in the story. This is where Thor #25 didn't work completely. It did feel like we were missing some info for why Tony Stark would go, rogue, the way he did. Since I haven't been reading the current Hulk series outside this crossover event I did feel lost with the choices Tony Stark made. That said Martin Coccolo knocked it out of the park with how Tony made his presence known with his most powerful Iron Man armor to date.
The two backup stories by Tom DeFalco, Ron Frenz, Nadia Shammas, and Pete Pancazis were solid ways to celebrate Thor's 60th anniversary. Both creative teams tapped into the type of stories and style of those eras for Thor. This is what you want to see as both stories added enough modern-day storytelling with their style of writing and drawing to make it all work.
All together Thor #25 is a strong package that continues the Hulk vs Thor: Banner Of War crossover along with celebrating the character's 60th anniversary. The developments for the crossover story progressed Thor and Hulk's respective narratives forward so you are even more invested in where their character arcs will be going from here.
Story Rating: 7 Night Girls out of 10
Art Rating: 8 Night Girls out of 10
Overall Rating: 7.5 Night Girls out of 10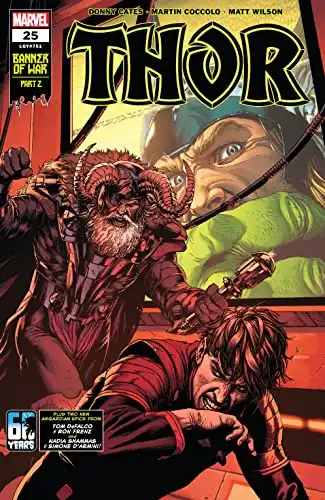 Thor (2020-) #25
Buy Now
We earn a commission if you make a purchase, at no additional cost to you.
09/18/2023 08:42 am GMT